Honest and Professional Automotive Repair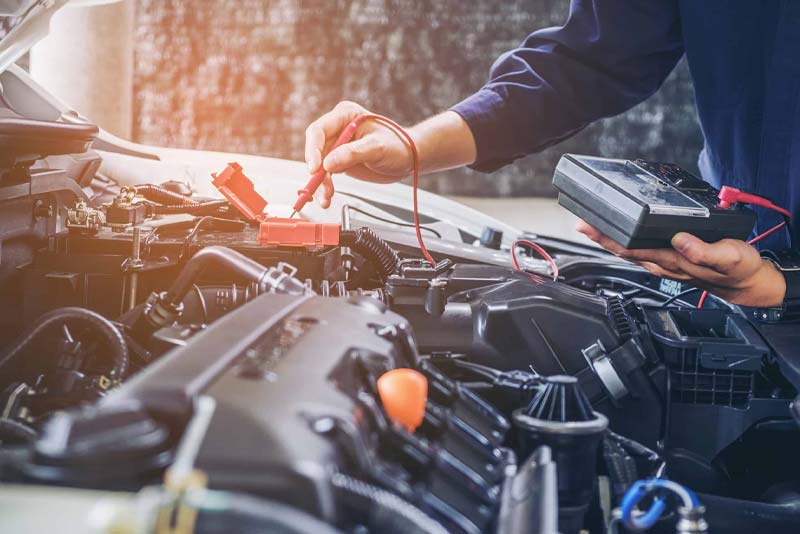 Make the smart decision and come to the family and locally owned Wayne's Car Source for regular auto care. From tire rotations and batteries to brake repairs, your best interest is foremost in our mind.
Wayne's Car Source provides honest and professional automotive repair and auto maintenance services to the people of Warminster, Doylestown and surrounding areas. The quality technicians at Wayne's Car Source employ today's latest automotive technology and are equipped to handle all major and minor repairs on domestic and foreign vehicles.
Tom's "Auto" Biography
In 1969 Wayne Wiley bought the property on the corner of York Road and Fir Street in Warminster. He called it Wayne's Sinclair Gas station, where he started a business selling gas and repairing cars. When asked about his career choice, many remember him saying "I've been working on cars my whole life"
Wayne had a signature smile and a distinctive laugh that all who knew him would recognize. In August of 69' his sister in law Norma stopped in to see his new business. She was 5 months pregnant and Wayne gave her that famous smile and jokingly said "No pregnant women allowed in the shop!"
Who could have predicted she was carrying the future owner of her brother in law's new company, his nephew Tom Evangelista.
What started out as Wayne's Sinclaire gas station was then Wayne's BP from 1973 to 1978 and Wayne's Texaco from 1978 to 1992. The shop name changed according to the gas product he sold.
In 1992 he stopped selling gas all together and the shop became Wayne's Automotive. The title changed a bit over the years but "Wayne" in the name always remained.
In 1980 Wayne's second oldest nephew John Evangelista began his automotive career working with his Uncle. John's brother, Tom later joined the team in 1985. From 1985 to 1997 John and Tom slowly took over the reigns. Wayne semi retired in 97' but was still a constant presence in the shop. Unfortunately he never fully retired due to his untimely passing in 1999. The business would continue to thrive under the Evangelista brothers ownership until 2021 when John then retired.
Tom was thrilled to have his only son waiting in the wings and young Tom was eager to follow in his father's footsteps. After three years of technical school and getting some diversification and valuable training working at a Toyota dealer ship for seven years, Tom Jr began working with his father in the winter 2021.
Wayne's Automotive expanded to a second location, Car Source on Main Street in Doylestown in 2019. As of July of 2023, the two location are both now known as Wayne's Car Source.
Just as his name has always remained with the changing times, Wayne's work ethic lives on through his nephew and great nephew. Family ownership and quality workmanship has stayed consistent. At both locations you will receive the same excellent service that Wayne Wiley started in 1969 and his family has continued to provide for decades.
---
Trusted and Reliable Auto Repair in Warminster and Doylestown, PA
If you're looking for a full-service automotive expert that can give your vehicle the care and attention it needs at all times, Wayne's Car Source is your honest and reliable source for expertise. As a leader among auto repair shops in Warminster and Doylestown, we strive to uphold our promise of complete satisfaction, no matter what your automotive issue may be. From tune-ups and minor repairs to transmission repair and brake replacements, we can service any vehicle's needs, from top to bottom. Looking for comprehensive tire service or new tires in Warminster or Doylestown? We've got you covered there too.
Please be sure to go to our Shop Specials section for our current coupons and specials.
Come by and visit our clean and professional shop in Warminster and Doylestown, Pennsylvania.